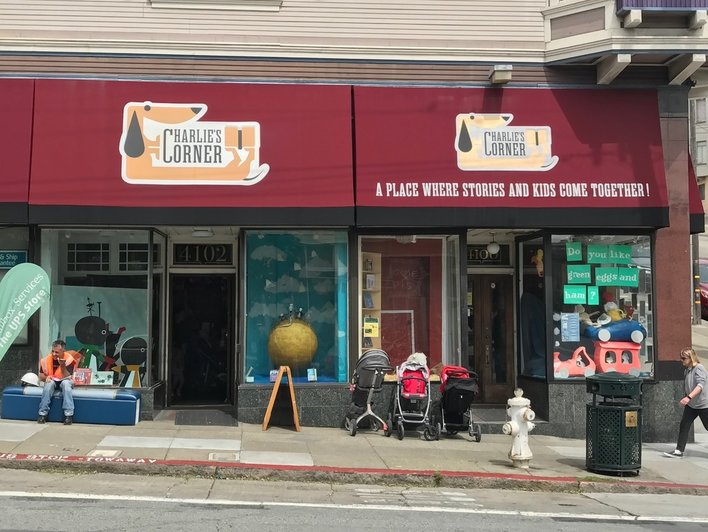 Earlier this week, I went to my first Meetup. If you don't know, Meetup is a website/app that's part community-building, part networking. I learned about it at an orientation for jobs in Tech. But that's another story.
This Meetup was for local children's book writers. It seems like most members are aspiring and/or self-publishing. They meet monthly at Charlie's Corner, a very sweet San Francisco children's bookshop.
​The store is amazing for littles. There are hidey-holes for cozying up with a book or for imaginary play, toadstools seats, a reading tree. They do story times every day three to four times a day, plus special French and Spanish story times, and even a musical story time. If you're going browse or buy, you might want to avoid story time, since the shop is jam-packed with strollers, caregivers, and toddlers. Anyway it's a really enchanting place that carries books just for kids, from picture books to YA.
This particular meeting was for those interested in self-publishing children's books. The two guest speakers were Catherine Starr, the children's librarian at the Noe Valley branch library; and Katharine and Charlotte of Charlie's Corner. Charlotte is the owner (the "Charlie") and Katharine is the shop's seasoned book buyer. All three gave us the scoop on what it takes to get self-published books into libraries and bookstores. They limited their advice to San Francisco Public Library ("a big, urban library system," Starr said) and Charlie's Corner, a specialty indie bookstore.

​
So, what does it take for indie authors to get into libraries and bookshops? Here's what the experts had to say.
This might come as a surprise but it's really difficult to get self-published books into SFPL!
Why? Most self-published books seem like they "haven't done baking yet." That is to say they aren't finished, and they've been rushed to completion.
90 percent of self-published books are not up to the standards for stores and libraries.
Flaws in self-published books seen over and over include lots of typos; quick, undeveloped resolutions to stories; and ideas that either aren't original or that don't offer a fresh, unique, or unusual approach to an old idea. (Because, really, how many new ideas are there?) In other words, these books aren't very good, and they don't stand out for the right reasons.
Okay, you might be saying. My self-published children's book doesn't have any of these problems. It's in the 10 percent of awesomeness. What can I do?
SFPL only works with a set of approved book distributors/middlemen/vendors. These include Baker & Taylor, Children's Plus, Ingram, and Brodart. If you want to try to get your book into the system, best to have it distributed through one of these guys.
You can send your book to the SFPL children's collection coordinator, Carla Kozak (if you want her contact info, message me), but her standards are super-duper high. Like, diamonds and rubies high.
At Charlie's Corner, self-published authors are more likely to have their books accepted because of our old friend Guilt. In fact, they prefer to be mailed a book and not meet you in person, the better to reject you. It's the meeting-you-in-person that will induce them to carry your book, because you are a nice person (right?), and they are sensitive, kindly souls. Ruthlessly exploit this to your advantage, Game-of-Thrones style!
Charlie's Corner uses Ingram. They also buy books directly from the author. They don't work on consignment. If you like that route, the bookstore down the street, Folio Books, sometimes takes books on consignment from local authors.
What are librarians and booksellers looking for? Where are the holes in children's literature?
See, even if you are self-published, you might have a way in if you've written a book they want. American kid lit needs more diverse characters, and stories about underrepresented cultures and holidays. If you've penned a STEM book, especially nonfiction for younger elementary level readers, then you're at an advantage.
Here's another note: Charlie's Corner says they don't receive many self-publish middle grade books, so that might be an opening. As a side note, Katharine laments that there are some great standalone middle grade reads, but so many publishers are pushing for series. If you have a terrific standalone MG novel, you just might rise to the top of the heap.
If all this seems discouraging, I'll leave you with this recent J.K. Rowling Tweet: "Do not ever quit out of fear of rejection."
Don't give up. Keep creating. Just because someone rejects your book doesn't mean you shouldn't be doing what you love. The more you write the better you'll get. Those 10,000 hours are only going to make you a better writer. Don't listen to the naysayers. Keep going.