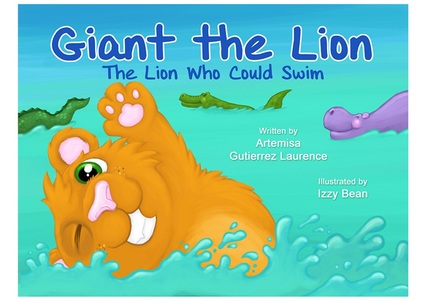 Today's post is a stop on a blog tour for a new picture book,
Giant the Lion: The Lion Who Could Swim
(Giant Lion Publishing, May 2016), by Artemisa Gutierrez Laurence, illustrated by Izzy Bean. Thanks to Artemisa for visiting my website! I'll be giving away a copy of the book—see the Rafflecopter below.
Give us your elevator pitch—briefly, what is your book about?
It's a touching tale of a lion cub named Giant who wants nothing more than to swim. With light-hearted dialogue and colorful illustrations,
Giant the Lion
is gentle inspiration for every child with dreams of greatness. Giant is going to learn to swim, and he is a little nervous. Good thing he has good friends to cheer him on. Giant becomes the fastest swimmer, good enough to compete in an upcoming swim competition on the lake. Whether water-shy or raring to go, young readers will find much to relate to as Giant experiences a childhood first, and what it means to never give up.
What makes this book amazing?
This book is amazing because of its message of learning to always try your best and not to give up. The book is beautifully illustrated and shows how a lion cub learns how to swim with the help of his friends. He soon discovers his love of swimming and will enter a swim competition on the lake.
Why did you want to write this book?
I wrote this book because I felt that children needed to learn that we all get intimidated to try something new, but with help from a parent, teacher, or friend we can learn to overcome our fears.
What's your area of expertise?
I feel that one of my callings and expertise is to teach children how to swim. After teaching children how to swim for over 25 years, I discovered that was one of my purposes and gifts to share with others.
Who will want to read your book?
Children, who like to swim or want to learn how to swim, will want to read my book. The book features animals that are all loveable characters and will help inspire children.
If you 're self-published, what made you decide to take that path?
I decided to go the self-publishing path because I wanted to find an illustrator that would bring my book and vision to life.
What's the best thing about publishing?
The best thing about publishing is experiencing your vision of your book come to life, and having great response from your audience is a rewarding feeling.
What's the hardest thing about publishing?
The hardest thing about publishing is making sure that your book conveys the message that you want to share to your audience. Every detail is important and it is up to you to include it all in your vision and book.
What are you working on now and when will readers be able to get their hands on it?
I am currently working on another book in the Giant the Lion series and hope to have it available next year.
Any secrets of success you'd like to share with our reading audience?
The secret of success is to always try your best, never give up, and have perseverance for what you want to achieve in life.
Anything else you'd like to add—promotions, upcoming events, words of wisdom, etc.?
Never give up on a dream. Find a way to make your dreams happen, even if it takes a while to achieve. We all have a purpose and talents to share with the world. You never know whom you will inspire.
You can find Artemisa on Twitter @LionGiant. Her website is under construction, but the book is available for purchase at Amazon. In the meantime, I'm giving away a copy to one lucky reader via Rafflecopter!